miércoles, 23 de septiembre de 2009
Nueva pelicula animada de DC Comics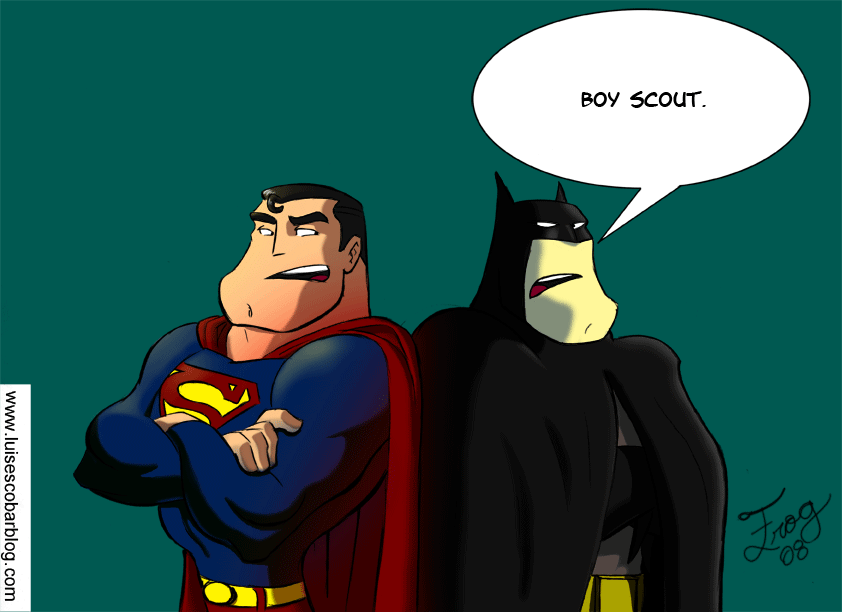 Con
Superman
y
Batman
como protagonistas, se titula Public Enemies (enemigos publicos)
y plantea una union de los villanos en contra de los heroes,
Una solucion desesperada para un pais en problemas:
Lex Luthor
para Presidente!!! con la Liga de la Justicia al servicio del gobierno, solo
Batman
y
Superman
se oponen al nuevo regimen y esa deslealtad es la prueva que
Luthor
necesitaba para poner en evidencia al hombre de acero,
Y asi ganarle la partida,usando su nuevo estatus arma un escandalo en contra de
Superman
,Lex por fin puede saborear la victoria en su vendeta contra Supes.
el trailer esta muy bueno,la animacion se ve bastante trabajada, un poco mejor que las producciones mas recientes aqui se los dejo.
Aqui la pelicula
Etiquetas: Animaciones, Batman, DC Comics, Movies, Peliculas, Peliculas Animadas, Superman

martes, 22 de septiembre de 2009
Pelicula de X men 4 y Los New Mutants
La productora de las Peliculas de Los X Men
Lauren Shuler Donner Recien acaba de declarar cuales serian las peliculas que a ella le gustaria ver en conjunto a la nueva pelicula de X Men First Class.
Ella comento que se han estado cocinando planes para seguir la franquicia mutante,algo asi como: X Men 4 que reuniria de nuevo a los X Mens, que seria genial, pero solo si regresan a Ciclops a la vida por que un equipo de x sin su otrora lider no seria igual,tal vez un nuevo comienzo.
a lo que ella tambien agrego que podrian darle salida a otro proyecto: los New Mutants (Nuevos Mutantes) los estudios dicen que esta en veremos.
Mientras tanto ya se vienen tres peliculas de Mutantes primero: Deadpool,Magneto y por supuesto Wolverine parte 2, pero cual sale primero?
Comienzo este nuevo proyecto,
para compartir mi aficion con todos los "frikys" de corazon como yo
en este blog voy a publicar noticias sobre comics, peliculas y series,con sus respectivos Reviews y Descarga.
Todo lo relacionado con las historietas de
Marvel
,
Dc
,
image
,
Dark horse
etc.
Mi nombre es Pedro soy de Peru y estoy a sus ordenes.
El primer post va para
Marvel
Comics ya que este dia salieron los solicits del mes de diciembre, que mejor manera de comenzar este proyecto para mi y para ustedes.
X Necrosha the Gathering #1
The Story: Selene's Inner Circle stand revealed... Wither, Mortis, Senyaka, Eli Bard and Blink. But what led Selene to gather some of the deadliest mutants in the world? Why would one of the X-Men's students join her? Who is Mortis? How is Blink alive? The stories of the Black Queen's death dealers are told in this anthology one-shot by some of today's hottest artists!
What if: Secret Invasion #1
The Story: We all know how Secret Invasion ended with the Skrulls defeated and the death of the Wasp and the Skrull Queen. But what if it happened another way? Get ready to check out two widely different tales exploring that question. In the first story, scribes Kevin Grevioux (NEW WARRIORS, Underworld movies) and Karl Bollers (EMMA FROST) ask more questions: What if Reed Richards was killed before escaping from the Skrulls? Would our heroes still have won the day? Or would Earth embrace the Skrull way of life? In other words, "WHAT IF THE SKRULLS WON?"
The Story: Cyclops takes a voyage into the head of Emma Frost in hopes of containing the horrifying piece of the villainous Void that has been stuck there since UTOPIA. Can they possibly defeat the awfulness that has haunted the most powerful being in the Marvel U? Tensions are rising on Utopia as the X-Men deal with the new members of their team and the fact that the island is…well…sinking. And Wolverine and a classic pal take one of the craziest journies you've ever seen.
Ultimate Comics Spider-man #5
The Story: It's the knock-out drag-out you've all been waiting for! Spider-Man versus Mysterio!! Who will team up with Spidey to save the day? And will they get there in time?? Another rockin' chapter of the all new ULTIMATE COMICS SPIDER-MAN, from the hotshot team-up of BRIAN MICHAEL BENDIS and DAVID LAFUENTE
The Torch #4
The Story: The Torch is (theoretically) alive and (arguably) free. But the consequences of the Thinker's experiments are about to engulf the world in a nightmare from which there's no waking up - unless Tom (Toro) Raymond can persuade his old friend that there are still things worth fighting for!
Strange #2
The Story: Who is Stephen Strange? Months ago, in a chance encounter, he saved a woman's life--and since then, she's devoted every waking moment to tracking him down and learning his secrets! But her investigations are taking her down a very dangerous road of magic and mysticism--and straight towards one of Strange's oldest foes!
Spider-man Noir Eyes Without a Face #1
The Story: Peter Parker has a lot to be hopeful about. The Spider-Man is the beloved town hero; President Franklin D. Roosevelt is in the White House; the spiraling economy is on its first steps toward recovery; and with Norman Osborn out of the picture, organized crime in New York has lost its major player. But all is not well in 1934 America…dark forces are at play in the world, and a power vacuum in New York crime is quickly – and violently – being filled! Now Spider-Man must contend with a vicious new breed of killers, criminals, and maniacal death-dealers, reimagined from some of the greatest and deadliest foes of the Spider-Man!
Siege The Cabal #1
The Story: THE SIEGE STARTS HERE!! Remember when you were first introduced to the Cabal, the gathering of the most sinister members of the Marvel Universe, and you said to yourself: Well, that's going to blow up in everyone's face! Well, you were right and it happens right here!! Norman Osborn faces off with Doctor Doom and his mysterious threat to Doom is revealed. All of this is setting the stage for next month's explosive event: SIEGE!
Nova #32
The Story: A REALM OF KINGS ISSUE! It's the long-awaited and shattering return of one of the Human Rocket's greatest foes...the Sphinx! Nova and Darkhawk are missing and presumed dead—and they really will be dead if they don't put aside their roles of hunter and hunted! Can the galaxy's top cop team up with the galaxy's most wanted to stop a rising menace from the past...and the future? Find out what a huge threat the immortal Sphinx poses to the Marvel Universe, and discover why CosmicBookNews.com raves "tightly paced, beautiful to behold, exciting, and fun…from beginning to end, NOVA will keep you on the edge of your seat."
New Avengers Annual #1
The Story: Clint Barton is in custody and that leaves not only Barton's life in severe jeopardy but all the New Avengers are at serious risk. So the ladies of the Avengers ban together to do what they have to do in a double-sized blockbuster Avengers story with a startling new chapter in the life of Jessica Jones. Brought to you by Brian Michael Bendis and artist extraordinaire Mike Mayhew.
Fall of the Hulks Alpha #1
The Story: M.O.D.O.K. The Leader. Mad Thinker. Egghead. Red Ghost and the Super-Apes. Doctor Doom. They make up the secret group who have analyzed every victory and every defeat in the Marvel Universe to create the perfect battle plan that results in FALL OF THE HULKS! The origins and shocking truths of some of Marvel's most dangerous villains are revealed as the biggest HULK EVENT yet begins! From fan-favorite creators JEFF PARKER (AGENTS OF ATLAS) and PAUL PELLETIER (WAR OF KINGS) comes this tale of the "Smartest There Is" and their quest to prove it, once and for all.
Deadpool Team Up #898
The Story: "BRING ME THE HEAD OF MICKEY DOBBS" Everyone's favorite Merc with a Mouth hacks and wisecracks his way across the Marvel Universe in this third ongoing series featuring a new guest-star every month! This month: the Zapata Brothers, brought to you by the creative team behind DEADPOOL: SUICIDE KINGS, Mike Benson and Carlo Barberi! What happens when you take the Regenerating Degenerate, a couple of Mexican wrestler bounty hunters, the South American drug cartel, and a one-million dollar bounty on the head of a guy who's already dead? You get a ride into the bowels of a Texas border town, where everyone is out for themselves…and nothing is as it seems.
Dark Avengers Annual #1
The Story: Bendis and Bachalo launch from the pages of New Avengers and reunite for this very important DOUBLE-SIZED chapter in the Dark Avengers saga. Captain Marvel a.k.a. Marvel Boy found out he was surrounded by madmen and villains and ran for the hills. But no one gets out of Osborn's grip that easy…Will a new hero rise in the Marvel Universe or will Captain Marvel be seduced to the dark side? Also, the Sentry's true self revealed!!
Cable #21
The Story
: From the moment Cable jumped into the time stream with the infant "mutant messiah," he's had only one goal: keep Hope alive until she can choose her own destiny. But now, stranded on a planet in its death throes, eating fried rat on a stick for the millionth time, Hope turns to Cable and tells him she's ready to go home. Thus begins "Homecoming," the penultimate chapter in the X-Men saga that began with "Messiah CompleX." It's not only zero hour for Cable and Hope, but also for the mutant hunting them, Lucas Bishop, who is rapidly running out of chances to save mutantkind and the world. Because if Hope does make it back to the present, everything changes for the X-Men.
En ingles: The Story:
A mutant nation has been created on UTOPIA, off the coast of California. But what does that mean to the X-Men? Don't miss the series that delves into the lives and minds of your favorite X-Characters. This issue stars Colossus, Wolverine, Nightcrawler and others!
Captain America: who will wield the Shield #1
En ingles :The Story:
Steve Rogers has returned, but Bucky Barnes is the current Captain America, and has come into his own in the role. Will there be two Captain Americas? Will Bucky go back to being the Winter Soldier? What will happen? Decisions, decisions, decisions..
Etiquetas: Comics, Comics Diciembre, Descargas Marvel, Marvel